As the amount of data and information explodes within the enterprise, start-ups providing new and efficient technologies to store that data are proliferating.
According to CB Insights data data, enterprise storage start-ups (flash, hybrid, object, hyper-convergence, cloud) raised $1.62 billion in 2014. On a year-over-year basis, funding jumped 25%. Compared to 2010, funding to enterprise storage start-ups was up a whopping 197%.
The enterprise storage funding surge is continuing into 2015. Stealth mode storage start-up Qumolo raised a $40 million Series B led by Kleiner Perkins Caufield & Byers while all-flash storage start-up Kaminario added $15 million to its $53 million Series E round in January. 
Enterprise, Storage Start-Up Funding Trend, 2010-2014
Funding shifts decidedly to mid/late stage
Today the enterprise storage space counts a number of very well-funded private companies such as Pure Storage, backed by $470 million in funding and valued at $3 billion. And as the storage market continues to evolve, funding deal activity has decidedly moved away from the early-stage (unlike more nascent areas like drones and on-demand mobile services where the vast majority of deals are at the early stages).
As the visualization below taken directly from Industry Analytics highlights, over 47% of deals went to Series B and Series C deals in the last two years while another 38% went to Series D+ deals.
Valley deals in control
Geographically, the parade of funding to enterprise storage start-ups has been highly centered in Silicon Valley. In fact, Silicon Valley has taken nearly half of all deals over the last two years, while Massachusetts garnered nearly 20% of all deals. The bulk of Valley deals over the period were in the $10-$25 million range including Cloudian, PernixData and Nexenta.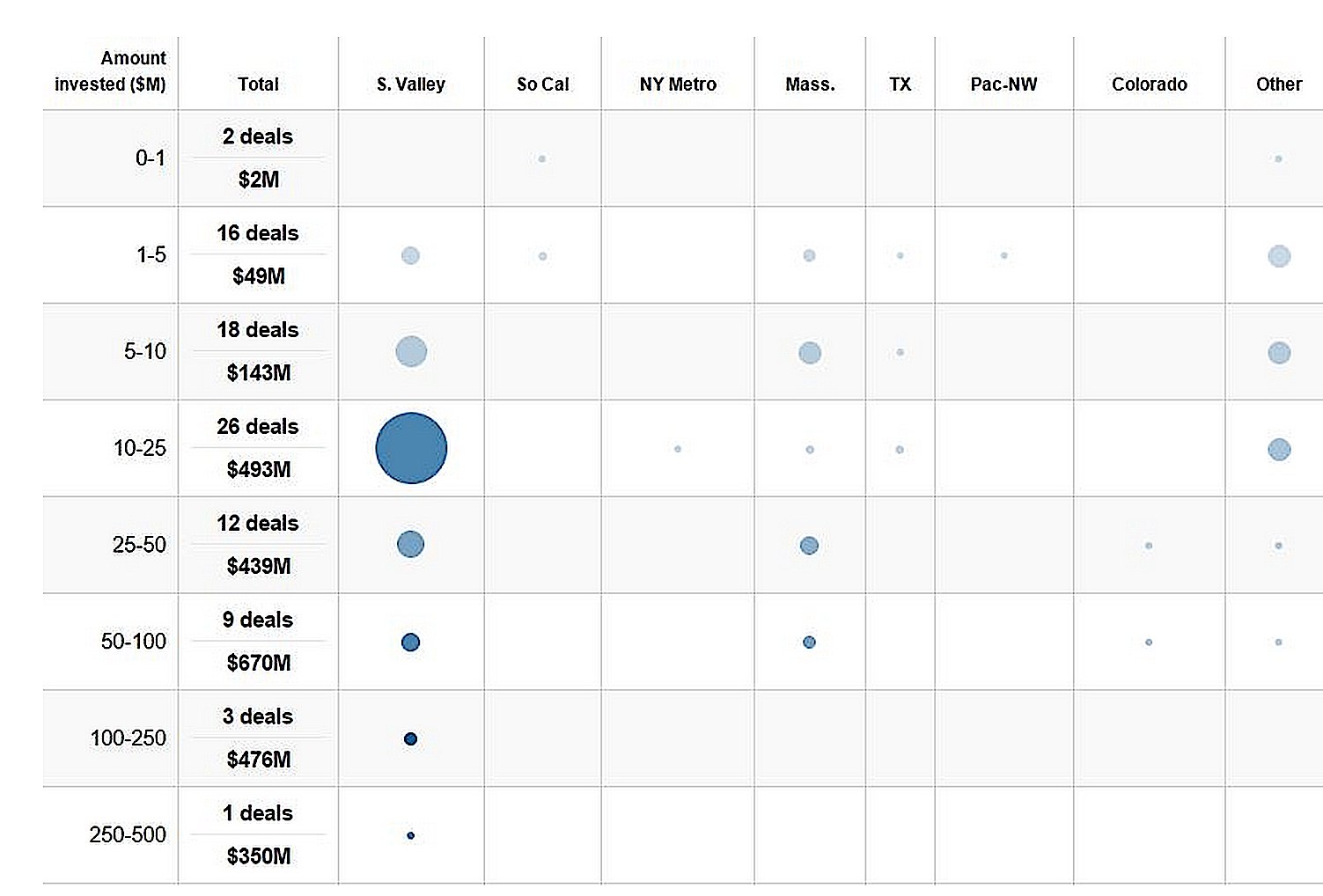 Lightspeed Venture Partners most active in enterprise storage
Across both exited and unexited enterprise storage companies, Lightspeed Venture Partners stands out as most bullish on the space with portfolio investments including Nimble Storage, Nutanix, Primary Data and Tintri to name a few. Intel Capital has also been highly active in the enterprise storage space, completing investments including Virident Systems, Maginatics and Box - all exited.
(+)